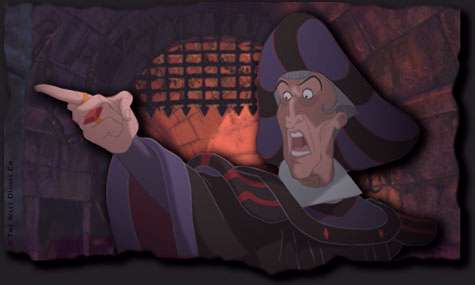 Here's one of my favorite shots of Claude. He's so...FORCEFUL! ;-) (Private Collection)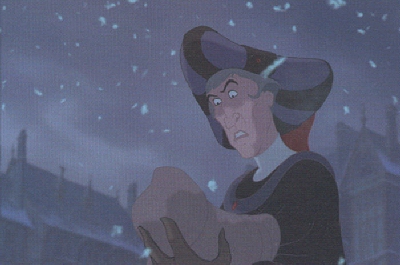 Here's My Man with baby Quasimodo. See? He is great with kids! (courtesy Belladonna)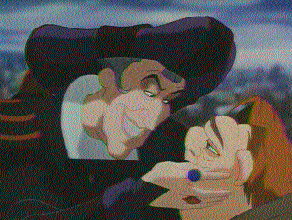 Claude sure has a way of 'reasoning' with those close to him. Hmm...that smile always works for me. Flash those pearly whites, baby, and I melt like chocolate on a 90 degree day!(courtesy Carmenita)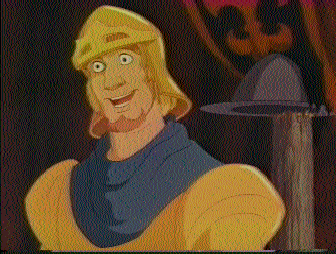 Well...I'd promised Phoebus I'd include this one. Take a good look at this face. Now, replace the helmet and armor with orange hunting clothes. Trade in Achilles for a Ford pick-up. A shotgun, a deer rack -- "Yee-hah! Let's go shoot somethin'!" Give Phoebus a bag of pork rinds, a six pack of Bud, and a lifetime subscription to Field & Stream. He'll be so gosh-darn happy! (courtesy Carmenita)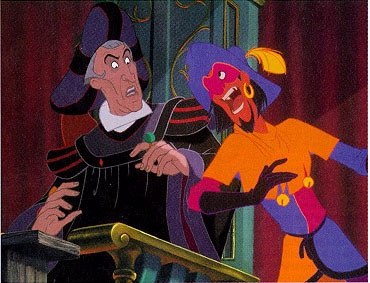 Oh No! Here's that self-promoting Gypsy King! Come on, Clopin. Can't you see Minister Frollo is upset? He's missing his FSM #14! You see, F'Freak wasn't at the FoF because...er...read What REALLY Happened. Hmm...talk about 'shameless self-promotion'! :-D (Private Collection)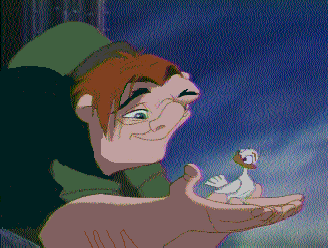 FrolloFreak can't forget her special little buddy! What a cool guy!(Private Collection)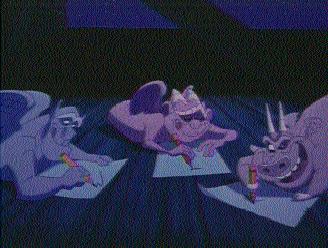 Quasi introduced me to these odd-looking figures. I like Laverne -- she reminds me of a lady at my church -- Sorry, Helen, but she does! (courtesy Carmenita)

I saved the best for last:
Here's my FAVORITE, as it appears on the title page - and numerous other pages - of F'Freak's site!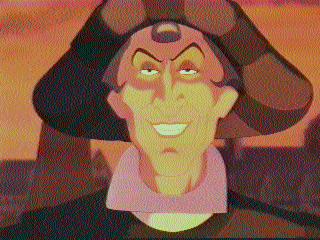 Isn't Claude gorgeous? I've always said that Claude has the sexiest smile around! I'd love to see this face adorn the cover of TIME –– Maybe as Man of The Year. NO! Make that People –– As the Sexiest Man Alive! (Private Collection)
Oh, yeah! I haven't forgotten! Here are two coloring pages, courtesy of Carmenita.

Claude and Snowball. This is a sharp pic! Claude looks TOO fine!

Claude Frollo in familiar pose. This is a personal favorite as well.

---
FrolloFreak would like to thank everyone who submitted pictures.

If you have any production stills,coloring pages, etc. of His Most Gorgeous, please contact the site owner.
All pictures submitted will be acknowledged and will receive the proper citation.

Want more? Go right to FrolloFreak's Photo Album II