Fanfic Collection #1
Lookie What Frollo Found! (thanks to Denise for Frollo's "Text Illuminator")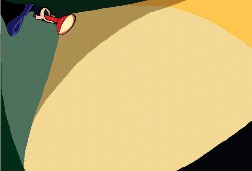 Listed and linked below are ALL HoND/Frollo-inspired fics written between 1997 and 1999. I know, I have a wild-n-crazy imagination! LOL
The stories should be read IN ORDER GIVEN. These tales follow a chronological pattern. Later works often allude to events and/or characters from a previous work. It's one huge story arc. :-)
FYI ALERT! Although I try to make sure all pages run and look good, an oversight or two does happen. If you should run into a faulty page – missing links, faulty mailto tags, formatting problems, etc. – please use this CWFR Troubleshooters form. I will take care of the problem ASAP.
ALSO...Some pages have a faulty mailto link to my webtv addy. It should be "crazedwriter@webtv.net", NOT @yahoo.com. I have yet to fix those links.
Character Sketches, "Timescape", Etc.
First up, several character/cast lists from all the stories, a complete character sketch of my HoND fanfic alter ego Danisha, and a brief page explaining that "time machine".

What is TimeScape?
Who is Danisha?
Character Briefs page 1, page 2, page 3, page 4. Page 5 will be up shortly.
Claude & Me
The first complete collection starring His Grace and his Eboné Diva.
Back to the Frollo
This epic tale of time travel, spicy romance, laughs and tears, was inspired by another Frollocentric story written by Belladonna, FSM #1.(She came up with the title) I'd rather not go into detail, but Check It Out For Yourself. It is knockdown funny! FYI: You may need to run this page through the Internet Wayback Machine as it is no longer online.
OK, on with the story!
Some time ago, while writing the later fics, this story underwent a few minor formatting, plus other, changes. Details Here

Prologue Chapter 1 Chapter 2 Chapter 3 Chapter 4 Chapter 5 Chapter 6 Chapter 7 Chapter 8 Chapter 9 Chapter 10 Chapter 11 Chapter 12 Chapter 13 Chapter 14 Chapter 15 Chapter 16 Chapter 17 Chapter 18 Chapter 19 Chapter 20 Epilogue Notes

What REALLY Happened
This tale was inspired by several conspiracy theories which popped up on the old Frollo Forum several years ago. Read FrolloFreak's HIGHLY speculative account of what went down after His Grace left Esmeralda at Notre Dame. The story is now prefaced with F'Freak's theory. Then go right to the first installment of WRH. Parts Two Three Four Five Six Seven Eight Nine Ten Eleven Part 12 Part 13 Part 14 Part 15 Epilogue Notes
Call 1-900-Claude Frollo
A little comedy, starring F'Freak and His Grace, detailing the hilarious events after a heartbroken woman decides to make one of those calls! All parts are up now! Read this little gem. It's funny, sweet, and has just enough spice -- But nothing to offend. :-)

Claude Frollo's State Fair Adventure
A short sweet tale of His Grace's first trip to the State Fair. The good judge had such a good time that he hasn't missed this annual summertime treat ever since. Read all about it HERE!
The Feast of Fools: FF's Style
No HoND site would be complete without an FoF story! Read how F'Freak and friends truly entertain His Grace. And Claude says he hates the Festival––But not this one!
Read this little tale and enjoy!

Snowbound!
A major snowstorm hits FrolloFreak's hometown, and F'Freak's friends take refuge in her home. An unexpected guest arrives –– Claude Frollo himself! Read Snowbound as FF and friends tell Claude all about their experiences during the Blizzard of 1978. Everything that happened REALLY HAPPENED!

Lead Me Gently Home
This fan fiction has been temporarily "de-linked" for editing. Please see this page for more information.
Didn't It Blow Your Mind, Claude Frollo?
A strange mixture of time travel, romance, history, theft, and little "Let it all hang out".

On The Edge of Time
This is the last of the "Claude & Me" series.

There's a Feedback Form linked at the end of this story.
All That Matters
A prequel to Back to the Frollo. During a violent storm and resultant power failure, Claude comforts his 21st Century lady after she has been insulted by an insensitive boor. She then learns about events that led up to her and Claude's initial meeting.

---
Go to Fanfic Collection #2
Collection #3
Home
Email Site Owner @ Yahoo Or @ MSNTV