A Salute to Disney's Best Single Moms & Dads
Ever wonder that most Disney animated films feature SINGLE parents? I noticed that too, and decided to make a page in honor of all single Moms & Dads. No I'm not a parent (never was blessed with children), but I do know lots of single parents who stuggle everyday to give their kids love, support, and a strong foundation that will carry them into adulthood.
Here's a sampling of famous Disney single mothers & fathers:

---
Maurice & Belle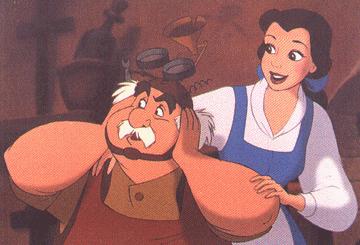 Maurice is one my favorite characters from Beauty and the Beast. He's an inventor of the first order – Always coming up with the most fantastic things. He has an inquistive mind and insatiable curiosity. No wonder Belle has this thirst for learning! :-)
Bambi's Mother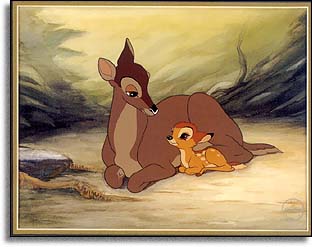 Here she is, with her new fawn – The future Prince of the Forest. While we KNOW Bambi's dad is nearby, he's really absent for most of Bambi's young life. That is, until Mom is killed by hunters. One of the most heartbreaking scenes in Disney film history unfolds as Bambi and his mother venture into the snowy meadow. A shot is heard off-camera. Bambi frantically searches for his mother, but it is his father who tells Bambi that Mom is gone. From then on it is Bambi's father who guides the young Prince to his true destiny.
King Triton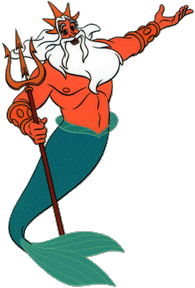 King Triton rules Atlantica with what I call a "benevolent sternness". He wants the best for all his children, especially Ariel. Triton at first views the humans on land with contempt and suspicion. But Ariel falls in love with Prince Eric and nearly pays a heavy price just to be "part of that world". Triton comes around in the end, after Ursula's defeat. He abides by Ariel's wishes to marry Eric, and even accepts the young man as part of the family. In Return to the Sea, Triton is overcome with joy at the birth of his new granddaughter, Melody.
Powhatan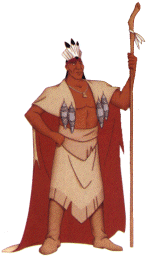 Chief Powhatan is a good father who wishes that his daughter would settle down and marry. He is aware that she is just like her mother – She goes where her spirit leads her. And it leads her to Captain John Smith, which enrages Powhatan. How dare these strange men from another land come to pillage and ruin what is an idyllic life. But Pocohantas stands firm, even risks her own life to save Captain Smith. In the end, Powhatan consents that Pocohantas follow her destiny.
The Sultan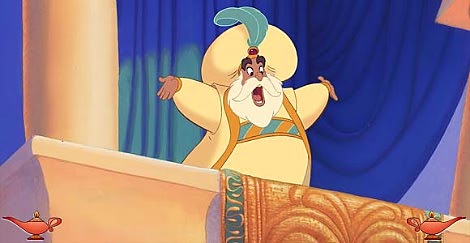 In Aladdin, the sultan presses Jasmine to marry a true prince, but faces tough opposition from his child. Jasmine is determined not to be tied down by custom – She even ventures out in the streets alone, where she meets Aladdin. The Sultan relies heavily on Jafar, which nearly destroys the family and Jasmine's future happiness. How fortun d04 ate for happy endings!
Kala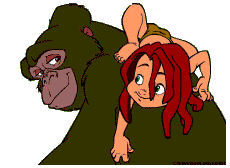 Kala adopts the baby Tarzan after the child's parents are killed in a leopard attack. She also has lost HER child to a leopard. Kala still grieves over the loss of her child, but this human baby needs love and care. Despite Kerchak's opposition ("He's not like us!"), Kala remains firm and rears Tarzan as part of the family. It is her steadfast devotion and compassion that guides an angry and confused young Tarzan. He hates being "different", but Kala tells him that he is special in his own way.
Aladar's Mother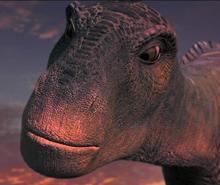 We don't know her name, or what became of her after the carnotaur smashed all her eggs – save one. We do know, from the opening scenes, that she is a caring mother who carefully guards her nest, even from a playful baby dinosaur! During the carnotaur attack, she bravely shields her nest, only to flee at the last moment. I often wonder if she's still alive when Aladar and his adoptive lemur family encounter the Herd.
Plio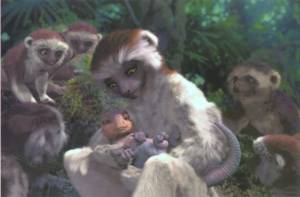 When an egg mysteriously falls from the sky and lands in the midst of Lemur Island, it is Plio who adopts the emerging baby iguanodon. Just as in Tarzan, it is the clan's patriarch, Yar, who objects to keeping the "cold blooded monster from across the sea". But Plio rears baby Aladar anyway, teaching him to be loving, idealistic, compassionate, playful, and cooperative. No wonder Aladar is NOT like his fellow dinosaurs – These qualities run afoul of Kron's outdated "only the strong and able survive" rhetoric. We see Plio as a loving mother not just to Aladar, but to her young daughter Suri. It is Plio who holds the family together after the Fireball destroys their island. It is Plio who gives a wounded Bruton not just healing medicine for his body, but a pep talk for his soul. She tells him to never lose faith and hope, and that is his choice whether to live or die.
---
I hoped you enjoyed this salute to Disney single parenthood. I'll make another page of famous Disney TWO-parent families when I have time.
In the meantime, CLICK HERE: "Disney's Mommies & Daddies Dearest" – Folks who will NEVER win Great Parenthood awards! :-)
---