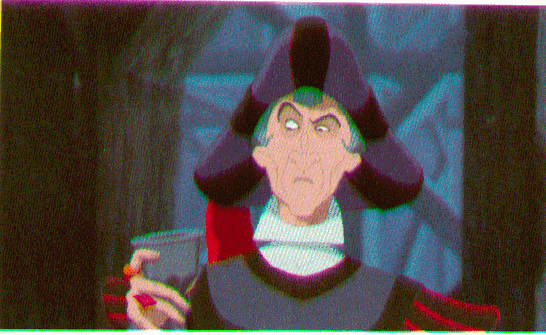 "Please don't tell me you're serving THAT again!"
Poor Claude! He's having it out with yet ANOTHER inept chef.
FrolloFreak to the rescue!
Here you'll find a few of Claude Frollo's favorite dishes, as prepared by his 14th FSM. All FrolloFreak can say is, "My sugarbritches acquired a taste for 21th Century American cuisine awfully fast!"
First up is FrolloFreak's famous pecan cake, as served to His Grace in Back to the Frollo.
I made this delicious salad when Claude dropped by unexpectedly one day last summer.
Now, we all know Claude Frollo usually stays away from sweets –– Have to keep that svelte physique looking good! But Claude simply can't resist a taste of my Apple Pie.
Here's a new one! I made this last Thanksgiving -- It's a hit everytime. And it has pecans...Yes, sugarbritches?...Really love those nuts, don't you?...Yes, Claude, they compliment the pumpkin quite nicely...
Here's Pumpkin Crunch. Enjoy!
And here's my famous Hot Water Cornbread, great with ham, greens, mac & cheese. Yum Yum!
That's all for now; there's more to come, so stay tooned!
Return to Fun Pages or